Nexus News
Generous Community Supporters – Nexus Matching Funds Needed to Leverage $200,000

Nexus Recovery Center is seeking new community support to raise $100,000 to leverage two recent gifts from local foundations; The Meadows Foundation granted $200,000 to Nexus for programs and services, and of that funding – $50,000 must come from new donors.

In addition, Hoblitzelle Foundation granted Nexus with $50,000 for their capital campaign to provide new bathrooms and services in the main Building A, that houses admissions, reception and counseling rooms for clients. However a match challenge has been issued – and it must come from a new funder source – the donor could double their investment in Nexus and the community. Read more here.

Scott Jones, President of Regions Bank DFW, to Lead Nexus' Operating Board's Development Committee

It's an exciting time at Nexus – the summer is almost behind us, and we are gearing up for the new fiscal year and fundraising activities. Leading the charge on the Nexus Recovery Center Operating Board is Scott Jones, President of Regions Bank DFW. A long time supporter of addiction recovery services, Jones has served Nexus in the last two years on the capital campaign committee, as a member of the corporate council, and on the board. He will lead development efforts with the board and his committee to acquire community funding from corporations, foundations and individual philanthropists in FY15 – with a goal of $1 million+.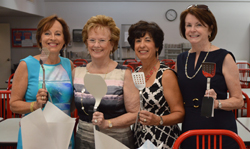 Why are these women wielding spatulas? Find out here!
Nexus Corporate Council-Initiated Project Aims to Improve Efficiency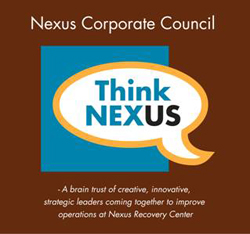 Nexus is privileged to have the expertise of Kristi Navarro and her TXU team to conduct a Lean Process Improvement review of day-to-day admission procedures at Nexus. Ms. Navarro will be identifying pain points to improve staff efficiencies and the time it takes for clients to be admitted for care. Using a "value stream mapping model, " her TXU team of volunteers will help the staff streamline the admitting process for more than 2, 262 clients and their children who are served every year at the La Prada Drive campus.

In addition, Nexus is looking to upgrade the admissions wing on-site to provide better technology, client privacy, facilities for families, and a place to rest and feel safe as they enter treatment.

Ms. Navarro, pictured below, joined TXU Energy in June 2008 shortly after graduating from Southern Methodist University with a Bachelor's degree in Business Administration. She is currently a manager on the Customer Quality team where she executes lean initiatives across TXU Energy. In addition, she is the Committee Chair for TXU Energy's Women's Information Network, the founder of the TXU Energy Future Leaders Society, a member of the Electric Toasters Toastmasters organization, and an active United Way Leadership Society member and Reading Partners volunteer.