Nexus Recovery Center
Women's Auxiliary
SEASON'S GREETINGS from the Women's Auxiliary of Nexus

Thank you so much for supporting Nexus Recovery Center at our very popular Women's Auxiliary 2014 Holiday Bazaar.We raised almost $20,000 this year from personal donations at the door, the raffle, vendor gifts, and from gift card donors!

Funds will provide holiday presents and toys to residential clients in treatment and their children, as well as vital funding for operating & program support - with your participation and attendance - you made that happen!

We want to thank host, Susie Simon, and all the Women's Auxiliary members and supporters for your help and generosity - it was fun! See you next year and enjoy the holiday season knowing you impacted so many.

Robin Bagwell & Jan Osborn, Holiday Bazaar Co-Chairs
Give the Gift of Membership


To give a gift of membership for Nexus Recovery Center Women's Auxiliary ANNUAL MEMBERSHIP online please select from the dropdown list of gift designations, scroll to auxiliary membership (levels listed) and click the 'Auxiliary Membership' button to continue.

Learn more about membership by contacting Barbara Nesbitt.

2014 Holiday Bazaar Quick-Pic: Event Co-Chair - Jan Osborn, Host - Susie Simon, Women's Auxiliary President - Lauren Gillette & Event Co-Chair Robin Bagwell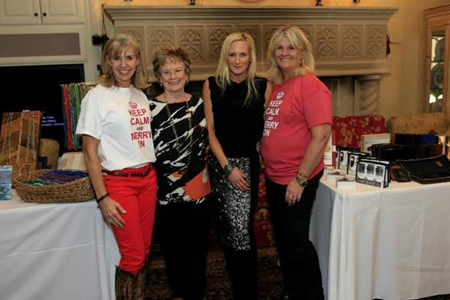 Your hands-on volunteer time, talents and treasures all make a meaningful
impact in the lives of our clients and their children.
YOU ARE RAISING WOMEN OUT OF POVERTY
by providing the following services:
Detoxification support, daily one-on-one and group counseling, family-style fun and activities in residence, access to peer support services - technology, vocational and further education resources, play therapy (ages 1-12) infant care, onsite Betty Ford Five Star pre-K-education, food, clothing shelter, rapid re-housing, daily transportation to medical appointments and so much more!



The mission of the Women's Auxiliary of Nexus is to support and promote the interests of Nexus Recovery Center, Inc.
| | |
| --- | --- |
| • | by building a strong and active membership, |
| • | by stimulating public awareness and |
| • | by helping in the financial support of Nexus' services and projects. |
Members of the Auxiliary make our community a better place by putting in countless volunteer hours each year planning and implementing special events to raise money for Nexus.

Since its founding in 1996, the Women's Auxiliary of Nexus has made a difference for women and children seeking recovery – and managed to have a lot of fun along the way! The Auxiliary has raised funds for myriad worthwhile programs, including:
| | |
| --- | --- |
| • | Aftercare program to maintain supportive ties with Nexus Graduates |
| • | Client Care Fund to allow for extended treatment stays |
| • | Vans for client transportation |
| • | Agency Medical Director, psychiatric fellow, and detox nurse |
| • | New adolescent dormitory |
| • | Smoking cessation program |
| • | Research building |
| • | Hallway and reception renovation |

Everyday there is loving support and I am still learning about my addiction and myself.

Read Kim's Story »

Admissions & Treatment
If you or someone you know needs treatment please call the Nexus Admissions Department at (214) 321-0156 x3118 or email us at help@nexusrecovery.org.